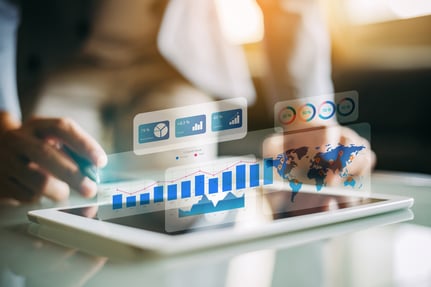 Does it ever feel like your marketing team is running on an endless treadmill with limited results to show for their efforts? Promoting a B2B technology company without a marketing automation strategy can leave you feeling exhausted and overwhelmed, particularly if you're not taking advantage of widely available tools.
B2B Marketing Automation Tools Streamline Your Sales Process
B2B marketing automation tools aren't a modern miracle, but they certainly can be the answer to overcoming many of your day-to-day marketing challenges.
Imagine convincing your marketing team to respond with specific details to hundreds of the same questions each day. It wouldn't take long for your team to be overwhelmed with the manual processing of these customer engagements. With marketing automation, you can capture the most common questions and concerns and turn them into a series of educational points that are pushed to prospects and customers at specific points within their buying journey.
Many marketers equate automation tasks with difficult, time-intensive setups on expensive software platforms. While you can certainly purchase platforms that are overpriced and overly-complex for moderate companies, there are also cost-effective solutions that allow your teams to focus on what's most important — creating strategies that will boost sales and enhance the customer experience.
Here are 5 signs that it's time for your company to invest the time required to create marketing automation workflows.
Signs Your B2B Tech Company Is Ready for Marketing Automation
1. Your Business Has Moved Beyond the Start-Up Stage
Start-up businesses require a great deal of care and attention, particularly when it comes to understanding the needs of your customers. Companies that have moved beyond this start-up stage are better equipped to create streamlined workflows that will help guide customers through a cohesive buying journey. Without significant metrics and customer feedback driving your marketing automation workflow decisions, you run the risk of creating unnecessary frustration with your website visitors.
2. Website Visitors Have Reached Critical Mass
Marketing automation is most effective for B2B technology companies when they have a modest to significant amount of web traffic. The more traffic you have, the more visitors that can flow through your sales funnel, providing you with meaningful feedback that can be incorporated into future iterations of your marketing automation strategy. Companies with a decent amount of website traffic also benefit from marketing automation features such as lead scoring and segmentation.
That's not to say that companies with minimal web traffic can't also benefit from marketing automation — just that they may not see results as quickly as those with larger contact databases that need help keeping up with repetitive sales and marketing tasks.
3. Your Team is Open to Innovation & Change
One of the most critical aspects of change management is ensuring that your company's culture is open to shifts in strategy and technology. Implementing a new tool is much easier than ensuring that it will be effectively used over time. Work with senior marketing and sales leaders to ensure the team's mindset is in the right place to accept new workflow solutions. It may be helpful to educate marketing teams on the value of marketing automation as a way to allow marketers to relinquish some repetitive daily tasks and focus more at a strategic level.
4. You Deeply Understand the Desires & Problems of Your Ideal Customers
You've got your team ready for a change. You've got the volume needed to drive a meaningful improvement in your marketing workflow. Now, are you confident that you're solving your ideal customers' most pressing problems?
Your marketing automation tools should be dialed in to provide the right information to prospects at the right stage of their buying journey — and that doesn't happen without a deep understanding of the buying process and what your customers desire from your product.
5. Your Sales Team Is Requesting More Lead Nurturing
Is your sales team inundated with leads that aren't quite qualified for an introductory conversation? It's vital that your sales qualified leads are ready to make a purchase or you risk wasting valuable time with your closers.
When marketers are able to work closely with sales teams to identify potential gaps in customer knowledge, these can be created into pre-sales drip campaigns that provide a stronger source of highly-qualified leads that are ready to take the next step in their buying journey.
Whether you are considering an automated chat solution, lead nurturing landing pages and webinars, or simple email automation tactics, marketing automation is a key component for success that B2B technology companies rely on to grow sales and increase customer engagement.
Download our latest case study to see how Relequint leveraged marketing automation to optimize a B2B technology company's inbound marketing strategies and attract more sales qualified leads. Ready to get started on your marketing automation journey? Schedule a complimentary 30-minute call anytime.