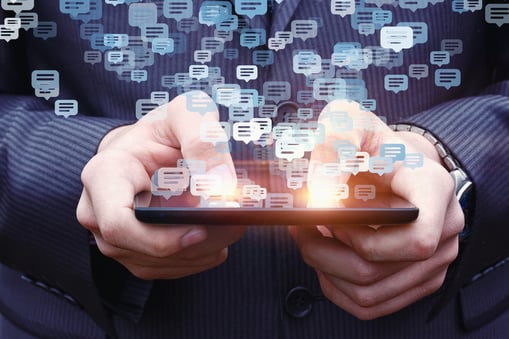 Chatbots in B2B marketing are still fairly unexplored, but as prospects' expectations for quick responses to their questions increases, they're gaining traction. Gartner estimates that by 2021, over 50 percent of enterprises will increase their investments in AI and chatbots to the point that it will exceed what they currently spend on mobile app development.
Capitalizing on this growing trend, martech leader HubSpot has released Conversations, a chatbot builder now available to all its customers. HubSpot's new flywheel approach to the sales process has led to the release of a suite of tools (such as Conversations) known as the Service Hub that enables companies to focus on customer experience with a simplified end-to-end solution.
As the customer experience becomes central to how businesses compete for prospects' attention, B2B marketers who integrate bots and AI into their conversational marketing initiatives will see an increase in efficiency and satisfaction, and thus lead generation.
Improving Customer Experience and Streamlining Processes Through Chatbot Integration
Chatbots on B2B websites provide a level of self-service that resonates with today's consumer. In the vein of self-scan checkout lanes and mobile banking apps, B2B buyers don't want to go through another person or wait as they complete the customer journey. They want access to the information they need when they need it.
Chatbots can provide these instantaneous results when a website visitor needs information or direct access to a representative that they would otherwise have to search the site for, or call or email the company and wait for a reply.
Bots are also being connected to email tasks as a way to streamline sales processes normally done by a human. This includes scheduling consultation calls, sending invoices and other administrative work. Some bots are even being designed to accept payments.
A smoother customer experience is made possible by the efficiency and slick user interface of a bot that can immediately schedule calls, send more information and store the prospect's contact and behavior information for future use when it's time for a human representative to step in and make personal contact.
Balancing Personalization and the Challenges of B2B Marketing Conversations
Chatbots and cognitive assistants can help overcome the challenge in B2B marketing of targeting multiple decision-makers in the same organization. Even if you're already using dynamic content to personalize your messages to multiple stakeholders, you can't guarantee that they'll respond — and your team won't always be able to respond promptly, either.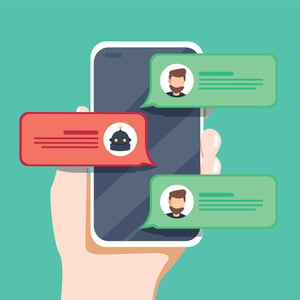 However, chatbots and cognitive assistants can tailor their communications in real time, no matter which decision-maker is asking the questions. Chatbots can deliver quick answers to prospects' questions 24/7 by pulling responses from knowledge bases. This means that prospects don't have to search for answers on their own and can consume content at their own pace, and that companies don't have to staff chat software around the clock with live agents.
HubSpot's chatbot builder in particular takes the pain out of personalization. You can create your own custom chatbot from scratch or choose a chatbot template based on your goals and tweak the visuals, questions and answers to reflect your brand voice and tone. You can also configure the chatbot to put the lead in touch with a live agent once it's qualified, and add the lead to lists and workflows.
HubSpot's chatbot builder is also integrated with HubSpot's CRM, so you can deliver personalized messages based on what you already know about your contacts. New information collected by your chatbots then gets added to each contact's timeline.
Machine Learning Increases Profits and Efficiency
As machine learning and AI have taken hold in numerous departments of large organizations, chatbots have proven extremely profitable and efficient. AI-based cognitive assistants like Aida and Cortana have achieved monumental success for enterprises with both internal and external applications such as taking minutes at meetings, conversing with customers in their native languages and answering frequently-asked questions. For example, the Swedish bank SEB initially scaled a version of Aida for internally assisting 15,000 employees, then deployed a chatbot using its AI to effectively serve one million customers.
This is one of the chief virtues of chatbots — their potential to reduce drains on resources. For frequently-asked questions and common problems, a script-based chatbot that's connected to a knowledge base and powered by a cognitive assistant (which relies on machine learning) can both smartly route support tickets to the right departments and prioritize the issues requiring a human touch. For B2B marketing, the chatbot can connect the prospect to anything from specialized content to the right person who can help.
Martech is becoming more powerful than ever before. B2B marketers are just beginning to use chatbots by connecting them to knowledge bases and configuring them to answer common questions, but in due time, they will also be scheduling meetings and billing prospects. As the demand for conversational marketing grows and the competition remains weak, it's crucial to adopt chatbots as part of your marketing strategy.